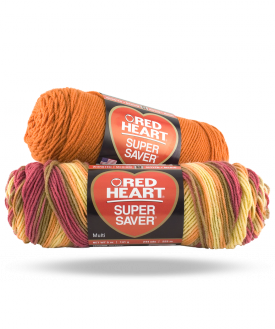 Let me just say that, I
love
Red Heart Super Saver
yarn for afghans. Furthermore, I have
yet
to find a more economical yarn than Red Heart Super Saver. But, that age-old adage definitely applies here, and when you buy Super Saver yarn, you get what you pay for.
To illustrate and just for fun, I'll share a little exchange my husband and I had a week or so ago. We were running errands together around town. I had just dropped off
some mustaches
that I'd made up, and in the exchange, I'd picked up some more yarn from my supplier. As I brought it back to the car, Eric picked it up, felt the softness of it, and said, "So this is what you use for the mustaches huh? It's pretty soft." Then, with surprise, "Oh, it's red heart."
To which I replied, pointing to the label, "It's red heart
soft
. The red heart I usually use is red heart
sandpaper
."
All joking aside though, I use Super Saver yarn for the vast majority of my afghans
(though I use it for none of my baby blankets)
. Super Saver comes in a full rainbow of colors, you absolutely can't beat the price, and although the texture is a little rough when compared to many of the other yarn options out there, I've found that once I've washed any of my super saver afghans a time or two, they soften up considerably.
In short, Super Saver yarn is very welcome in my yarn stash, and at a price of around $2 for a giant no-dye-lot 8 oz skein, it's my go-to yarn for any of my big afghan projects.
Here are some of the deets:
Type: Red Heart Super Saver
Fiber Content: 100% Acrylic
Weight: Worsted Weight
Care Instructions: Machine wash warm; tumble dry; do not bleach; do not iron; dry cleanable
Places you can purchase this yarn: Pretty much anywhere. I tend towards Wal-Mart, just because that's where I find the best price.
Price: Around $2 to $2.50 per 8 oz skein
And because I get a kick out of seeing them all together, here's a little collage of some of the afghans I've made using Red Heart Super Saver yarn: