So, I DID made some rainbow fingerless gloves.
And, they turned out pretty cute.
Wanna see?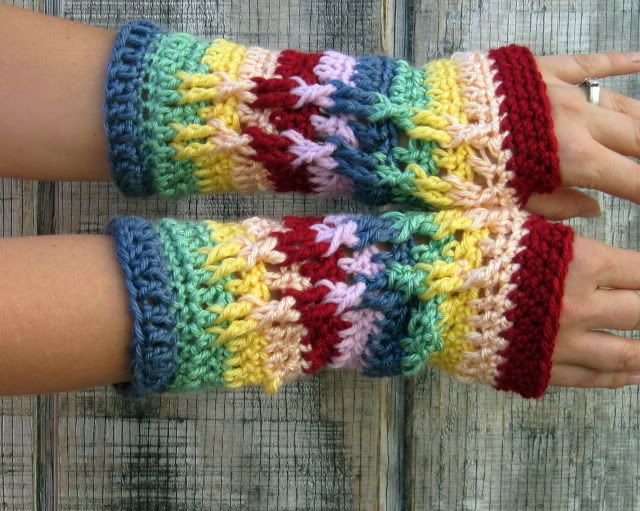 I made a bunch of pairs, and have already sold two of them, so that's been kind of fun.
There is a problem though. See those two peach stripes on the gloves in the picture above? I haven't been able to find that color and texture of yarn anywhere in town. So, I was able to make several pairs of the gloves before my peach ran out, but my final pair only has one peach stripe instead of two.
See?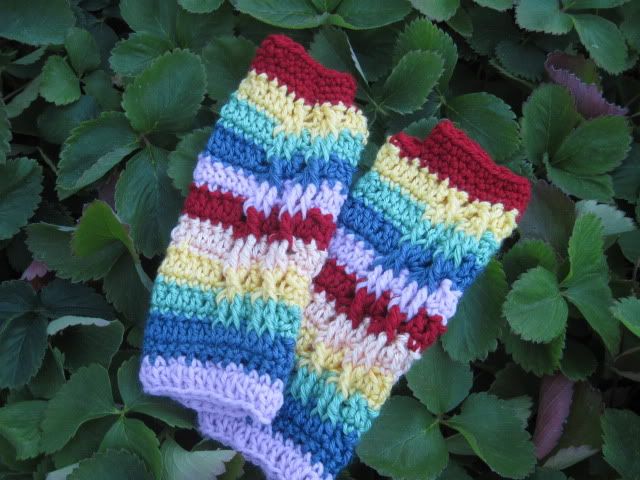 I don't feel like I can in good conscience sell these, since they are about 1/2 an inch shorter than the others, and are missing that all-important (yeah, right) second peach stripe. But, if I can't sell them, I can certainly
give
them away, right? RIGHT.
So, here's how it's gonna go down. Leave a comment here, any comment. That's one entry.
If you want more entries, here how you get them:
ENTRY #2: Like the SalutationsCrochet page on facebook
here
, and then come back to this post to leave a comment saying so. (If you have already liked the SalutationsCrochet facebook page, you can leave a comment saying that you've already done so.)
ENTRY #3: Share a link to your favorite piece of
salutationscrochet
inventory on your own facebook page or on your blog, and come back to this post to leave a comment saying so.
And finally, for the most fun way to get an extra couple of entries:
ENTRY #4,5, and 6: Go to this post over on my
"quirky-ness" blog
, and follow the instructions there.
I'll leave this giveaway open until next Monday at 10:00 p.m. (my time, which is mountain daylight) I'll draw a winner and post his or her lucky name!