So, remember how on my WIP list, I've determined that I need to go through this tote that I have and organize it? In my mind I call it "the tote of forgotten projects". Well, I finally went through it a week or so ago, and found a half-finished pair of creme fingerless gloves there, just waiting to be completed.
So, since I don't really like to just make one of anything, once I'd finished that pair, I made four more just like it. Then I moved on, and made more black gloves. Then I decided to make some brown gloves. Next I think I'm going to venture into a rainbow pair, probably along the lines of the slippers
here
. Then I'll probably be tired of fingerless gloves, and it will be time to go back to the tote and see what other mysterious forgotten unfinished beauties are lying there.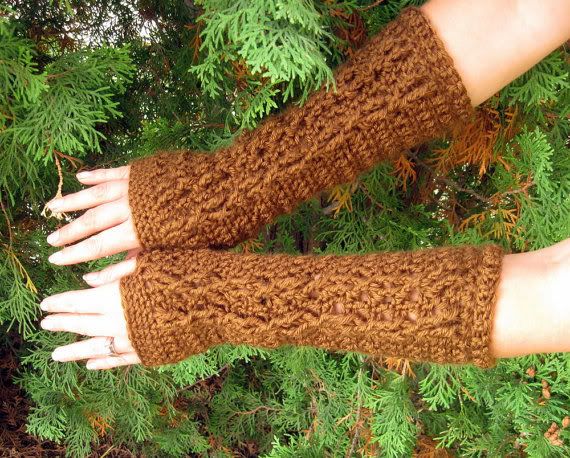 Oh, and when I was taking pictures of the brown gloves to list in the etsy shop, I went ahead and snapped a few like these, for a new avatar for the shop. I was getting tired of the previous shot of me with the sun hat. I know that I don't have to have my mug in the avatar, but I like being able to see the faces of the other etsy shop owners, so I guess it only makes sense that I like to have a representation of myself as well as my work in my own.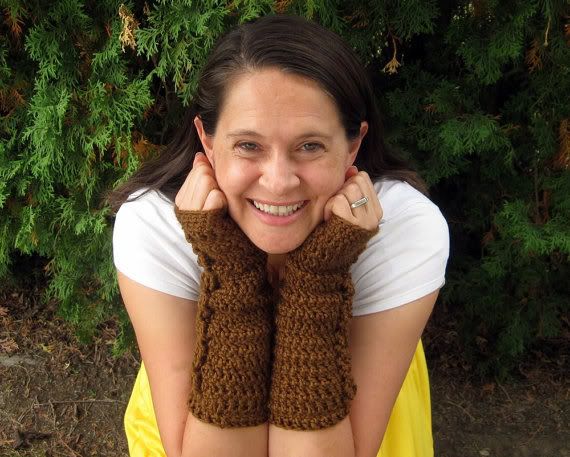 In other news, a photograpic genius neighbor and friend of mine recently asked me to make her a baby cocoon for a photo shoot she had coming up. Having never made one before, and wanting something new, I was happy to comply. I used
this pattern
from illbeyarned, and about half-a skein of Lion Homespun. It worked up quickly and turned out quite nicely I think. There are better pictures on Aubrey's photo blog
here
.
(I'd post the pictures here, but I'm not sure whether or not the baby's mother is okay with pictures of her son being used on the blog of someone she doesn't even know, and heaven knows I don't want to do anything that would make a new mother uncomfortable. So, until I'm able to find that out, you'll just have to either take my word for how cute it is, or you'll have to take the time to make one extra click over to
AHPhotography
to see for yourself.)
Here's a shot sans newborn that I took in my backyard photo studio (a/k/a the top of my deep freeze.)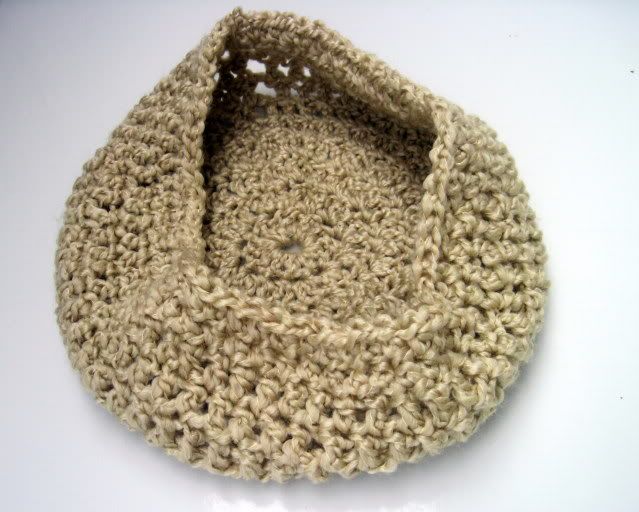 UPDATE:
Permission received! Check these out!
And that's what's up with me on the crocheting front. On the life front I've been putting together birthday parties for my little girl (one family party followed by her first ever friend party), and doing some pretty time-intensive work with my church, and trying to squeeze out as much happiness as I can out of these end of summer/beginning of fall days. Life is good.