A bit ago, I had a customer purchase a listing I have in my etsy shop, one for the Custom-Made Granny Square stocking. She had purchased stockings for her family elsewhere at some time in the past, but now had a new member of the family, wanted a stocking to match, and found that her previous source for stockings had ceased operations. So, she gave me her color choices, and a picture of one of the stockings she had already purchased and asked if I could make something similar.
The stockings she needed to match were a little different in style than the ones I had made previously, and so I agreed to try my hand at imitating the style of what she needed. After a bit of trial and error, I managed to get something pretty close, and since she was pleased with the result, and since I didn't want to have to "re-invent the wheel", should I want to make that kind of stocking again,
I've decided that I should take a minute and write down what I did. So, here it is: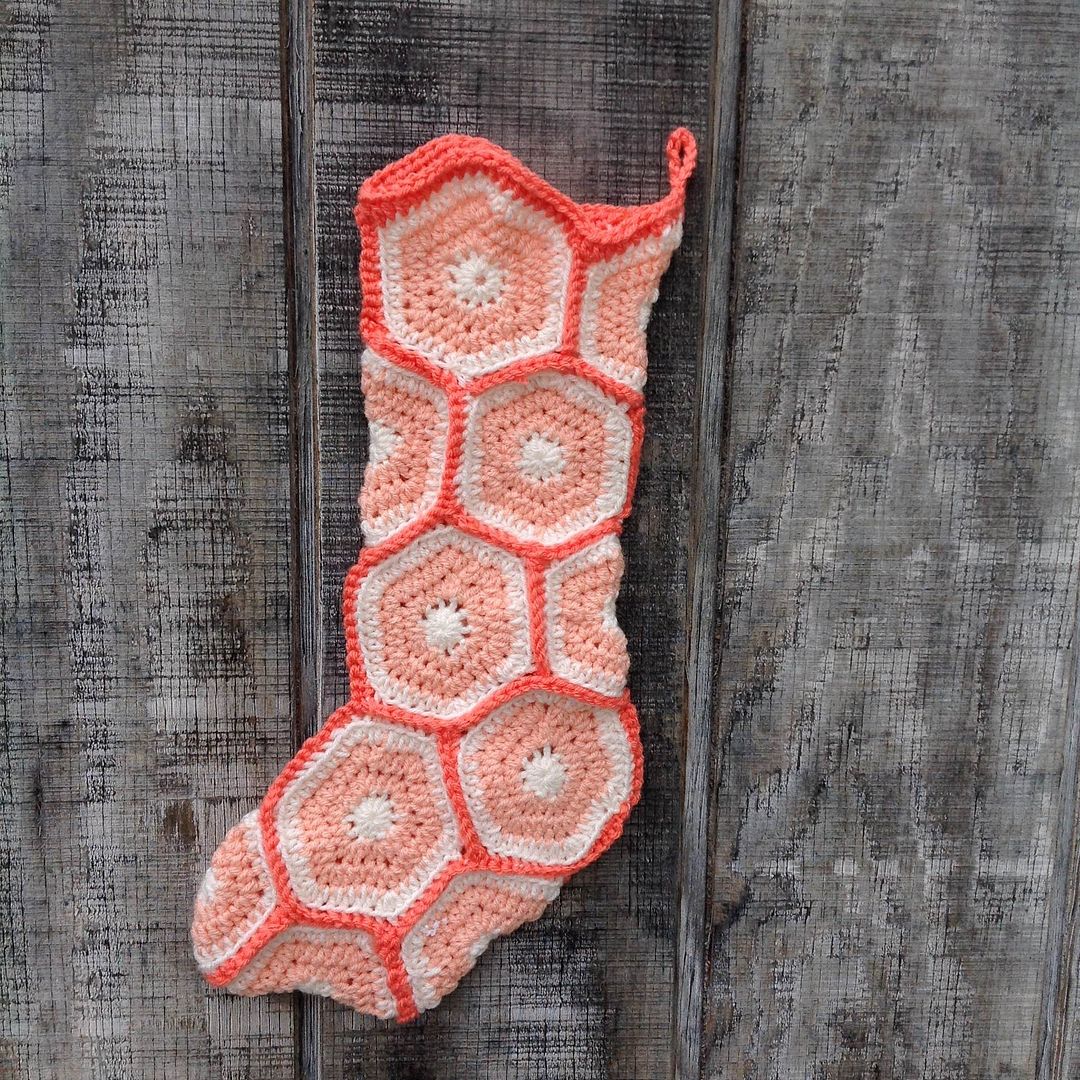 Pieced Hexagon Stocking
Hexagon- make 15
Magic circle
Then do 12 hdc in center
then 24 hdc in next row
then 36 hdc in next row
then 48 hdc in last row, finish off

Square- make 1
Magic circle
Then do 8 hdc in center
then 16 hdc in next row
then 24 hdc in next row
then 32 hdc in next row, finish off
Here's where it gets cryptic--In my opinion, the very best way to lay out these squares is according to this pattern
at holidayimaginations.etsy.com. But, it wouldn't be fair or ethical for me to copy those layout instructions here on my own blog now, would it? So, I'm just going to refer you to that pattern for the layout instructions. The pattern is only $4.75, and it's easy to follow, and in my opinion, well-worth the purchase price.
Following the layout in the holiday imaginations pattern, crochet sides together with wrong sides facing and with single crochet, thus making a ridge along the joining.
Beginning at back top of stocking, hdc around top one time. Join and chain 10, joining to make a loop for hanging.
Weave in ends.